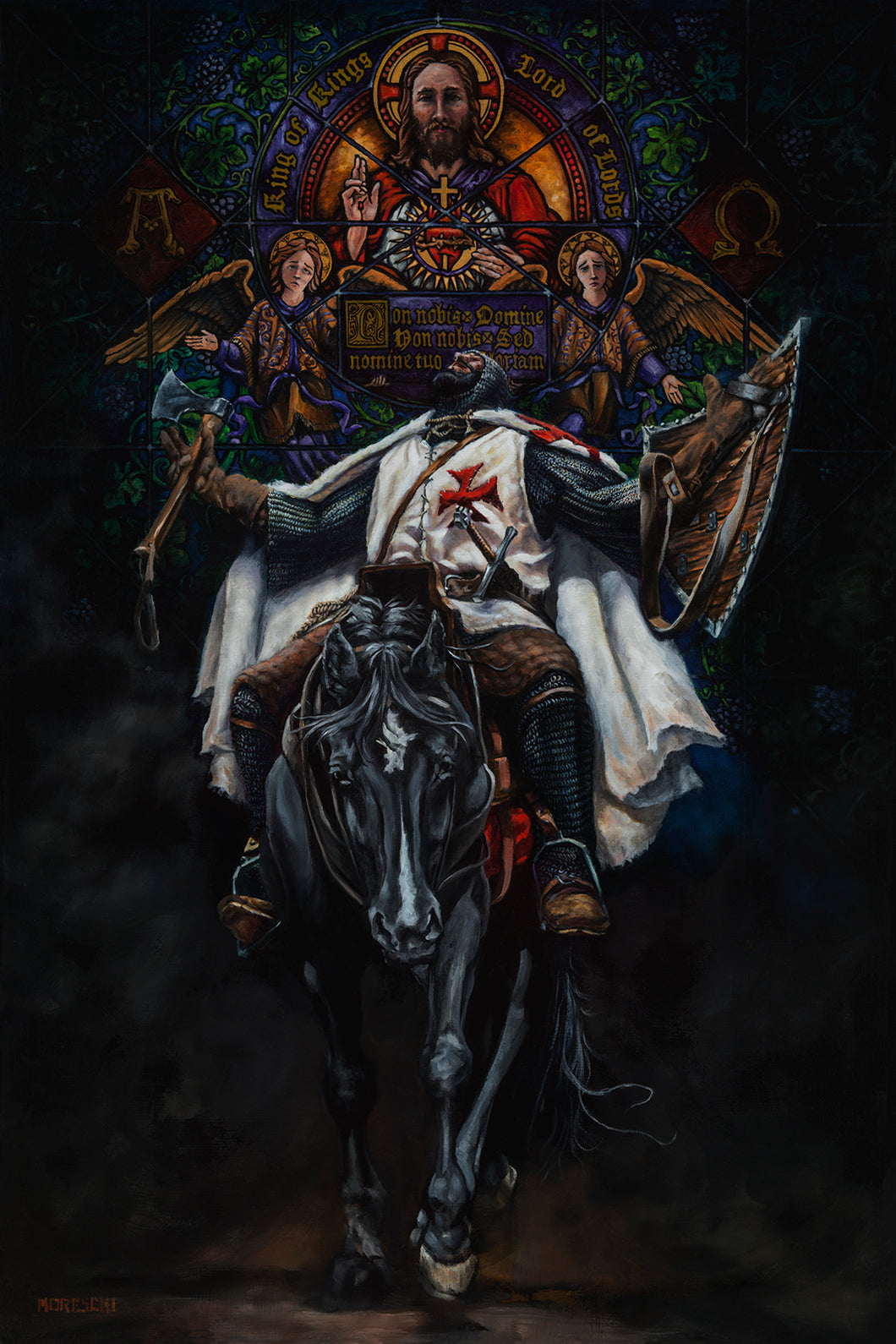 "I Am Thine, Lord, Save Me" - Psalms 115 Giclee Art Print
Regular price $100.00 Sale
The Spiritual Warfare Collection
"I Am Thine Lord, Save Me."
PSALMS 115
Non nobis, Domine, non nobis,
sed nomine tuo da Gloriam
NOT UNTO US, O LORD, NOT UNTO US,
BUT TO THY NAME GIVE THY GLORY
Symbolically rich and beautiful portrayal of a crusading Templar Knight seated on his mount offering himself up to the King of Kings/ Lord of Lords represented in the Sacred Heart Form/ Symbolism.  Two flanking sorrowful angels flank Jesus and The Sacred Heart holding a placard which reads Psalms 115 in the Latin Vulgate form - 'Non nobis, Domine, non nobis, sed nomine tuo da Glorium."  English translation - "Not into us, O Lord, not unto us, but to thy name give Glory."
Stain Glass feature also has the Alpha and Omega symbols of God - "I Am Beginning and the End."
Christus Rex
PLEASE READ the following information on the types of prints offered and which ones ship and are for pick up only.
The PAPER PRINT EDITION is an OPEN EDITION print(s) signed personally by Moreschi.
** ALL PAPER prints can be purchased and shipped ONLINE and at shows.
Paper prints are printed on fine art heavy photo paper utilizing the industry's up to date state of the art archival inks.   For paper prints we recommend, when framing, use a non glare glass for the paper giclee to give your piece a canvas look to the art.

The CANVAS  PRINT EDITION is a LIMITED EDITION print set signed and numbered personally by Moreschi.

ONLINE ONLY - Our standard practice for online purchase and shipment of canvas prints is ROLLED CANVAS.  However, if you would like a stretched canvas (mounted ready to hang or framed), please email us with the understanding and agreement your mounted canvas will be shipped but we will not be responsible, nor will we compensate, for any damaged mounted canvases.  You will also have to email us with your intent of having a mounted canvas shipped so we can provide you with an estimated price for shipping.  If you forget or don't care to email us in a prior manner, and order one either way, we will email you an estimated shipping fee.  Regardless, your  mounted canvas order WILL NOT until you have paid the estimated price on shipping.   Rolled canvases will ship via tube and will ship with the paid shipping price at checkout online.
If you would like to order a mounted canvas and pick it up at an upcoming show, refer to our show calendar here.  Please order the print at least two (2) weeks before the show to allow for the actual printing of your canvas.  Then email us and let us know which show you will pick up the mounted canvas print and we will deliver it to the show.
All of our canvases are varnished for protection and to give that "original" art look and feel.

Every canvas print is personally signed and numbered (if applicable) by Artist Tony Moreschi.  All limited edition prints come with a Certificate of Authenticity signed and numbered by Tony Moreschi.  We do not charge any extra fees for his signature of any items in our studio store or at shows.

The limited edition print set for "I Am Thine, Lord, Save Me"  is a run of only 76 canvas prints and is only available as a 24" x 36" canvas print which matches the size of the original oil painting's size- (rolled and mounted).
The size of the limited edition print set has significant historical reflection as it matches the 76 "Primitive Rules"  of the Rule of the Templars Order established by the Templar's Council of Troyes, which opened on 13 January, 1129. 
All of our prints are specially made "one offs" and we allow for a week for printing before shipping.  We do carry in stock prints for shows, and if your online order is in that stock, we will pull the print and ship asap.