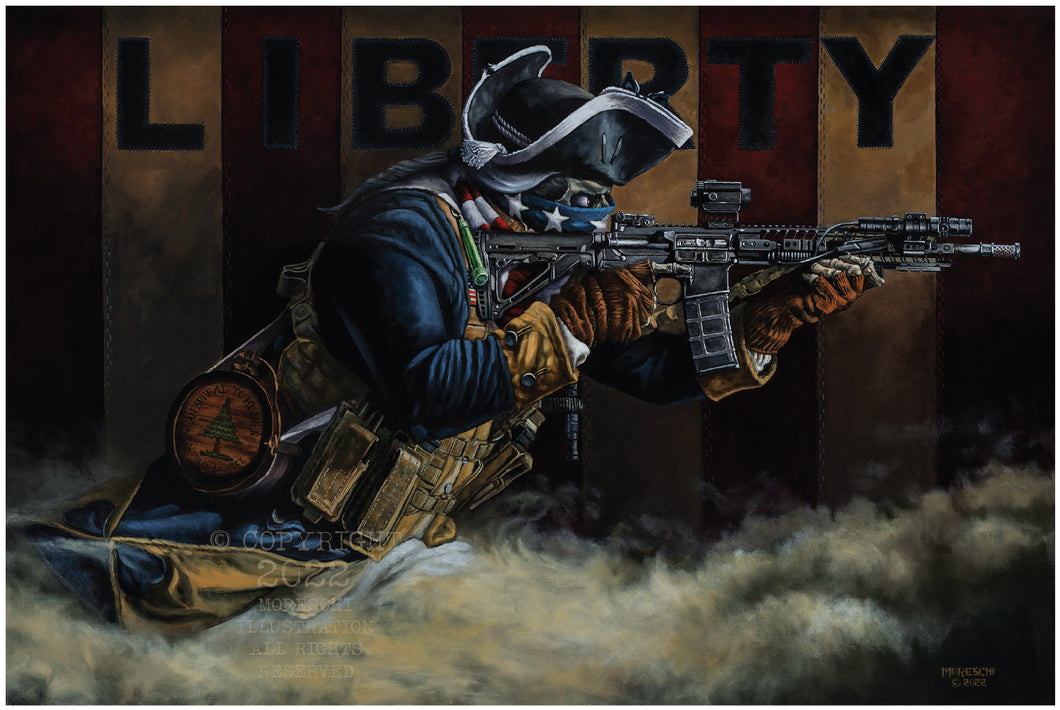 Sons of Liberty Art Print
Regular price $37.00 Sale
CALLING ALL SONS AND DAUGHTERS OF LIBERTY!
NEW DEFIANCE ART FOR 2022...
Defiance is back and is pushing the assault forward!  Here we have him sporting a Washington's Life Guard themed uniform and look. He is advancing through the fog of battle in front of the flag aptly named "The Rebellious Stripes."  We stitched on this flag the word "LIBERTY" (read on to see why).  On Defiance's canteen is painted in lettering - "An Appeal To Heaven" and underneath the Pine Tree, "Sons of Liberty."  The "Appeal To Heaven" motto and Pine Tree appeared on Washington's Schooner Ensign (flag).
The shemagh that Defiance has wrapped around his face is a representation of our modern flag, quite incidentally, to represent patriots of today in the "Spirit of our fore fathers and their fight for freedom and liberty... of which we have so greatly benefited from to this day."  DEFIANCE '76 IS "THE SPIRIT OF AMERICA!... a nation Under God for Life, Liberty, and the Pursuit of Happiness for all it's citizens... this we'll defend."
The Sons of Liberty, Rebellious Stripes and Liberty!
"Liberty Poles, Liberty Trees, and Liberty Flags were mentioned with increased frequency as protests began to grow within the colonies prior to the Revolution.  Men banded together into 'Sons of Liberty' societies and would meet under some large oak or other distinctive tree on the green.  They erected Liberty Poles which local authorities and Loyalists would, of course, try to chop down...
Flags also began to appear.  These were usually red ensigns bearing such mottos as 'LIBERTY' or 'CONGRESS.'  General Charles Lee, in 1775, urged that Army flags bear the motto 'Liberty.'
According to Mastai, in the 'The Stars and the Stripes,' early Revolutionary accounts speak of a Sons of Liberty flag which had nine vertical red and white stripes... Nine colonies participated in the Stamp Act Convention's Declaration of Rights in 1765."
- Standards And Colors Of The American Revolution, Edward Richardson, 1982
Print General information and Sizing - Please read

NOTE- THE WATERMARK VIEWED ON THE SAMPLE IMAGE HERE ON THE WEB IS NOT ON THE PRINT YOU WILL RECEIVE, IT IS FOR WEB SECURITY ONLY.
The original oil painting measures 36" x 54."  Thus we have Giclee (fancy artsy French word for Ink Jet Prints- best format on the market today) prints in paper and canvas available in open editions and limited edition sets.  All prints and styles (open or limited editions) come personally signed by the artist, Tony Moreschi.  Limited Edition are our collector's series of prints, and these prints are signed and numbered by the artist and come with a Certificate of Authenticity (COA).   The canvas prints for this painting are the Limited Edition collector sets, these are available in two sizes-

24" x 36" - shipped rolled and limited to 176 prints only.  Note: when stretched and mounted at 24" x 36", this canvas print will fit directly into a standard off the shelf frame.
36" x 54" - shipped rolled and limited to 76 prints only, this print matches the original size of the oil painting and is the highest collector's value print of this piece.
Canvas prints come with a 2 inch black border for a museum style wrap.  This add on feature (at no extra cost) allows you to stretch the canvas on a 2 inch mount and hang without a frame or wrap it at 1 inch for a framed canvas.  All canvases are UV protected poly canvas.
Our paper prints are printed on heavy gloss photo paper, not cheap poster paper, and have a half inch white border around the whole perimeter of the actual image.  You will see a "total size" image measurement which represents the print with the white border; and, You will see an "image size" measurement which represents the actual image only.  The paper prints come in three various sizes-
12" x 18" (image size), (total size is 13" x 19").
16" x 24" (image size), (total size is 17" x 25").
24" x 36" (image size). (total size is 25" x 36").  Note: trim the white border to fit into a standard 24" x 36" off the shelf frame. 
AS PER OUR POLICY, ALL PRINTS COME SHIPPED WITH A FREE DECAL (OUR PICK). 
Please note, canvas prints can sometimes take up to 2 weeks to ship depending on our on hand stock.  We do pull from our show stock for our online orders.