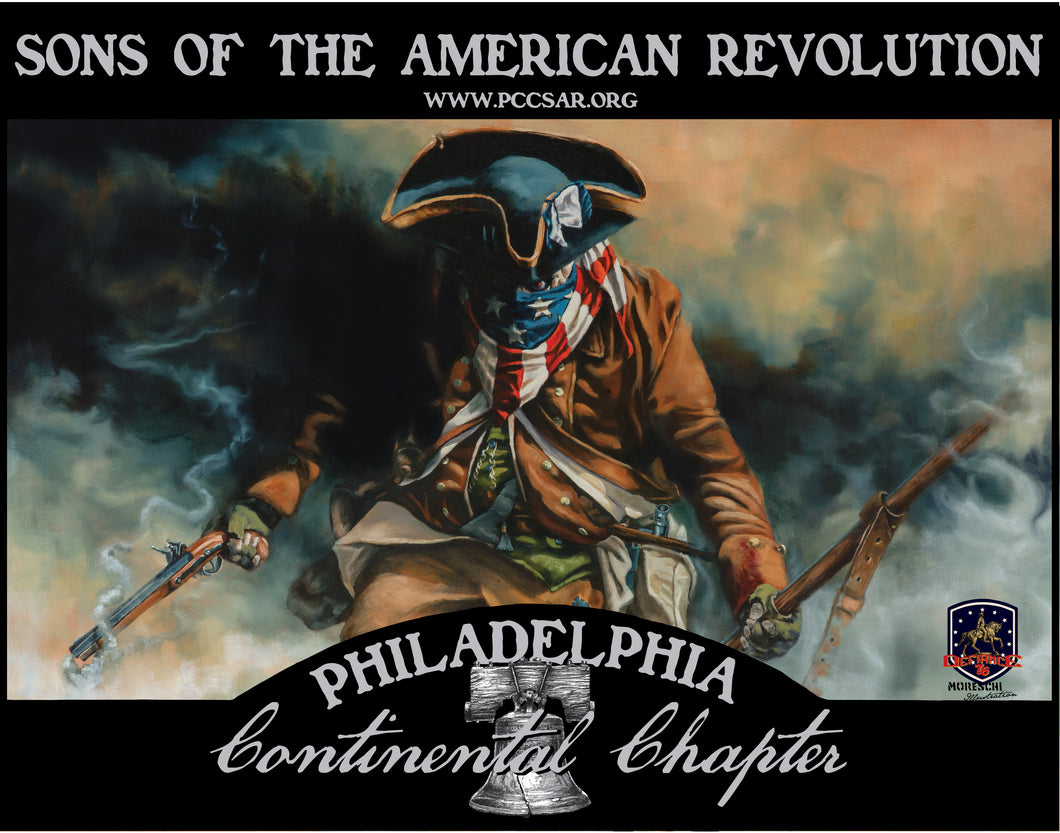 The Philadelphia Continental Chapter SAR Art Print
Regular price $35.00 Sale
The Philadelphia Continental Chapter SAR Collection "Giclee" Art Print
Defiance 76 of Moreschi Illustration has teamed up with the great folks at the Philadelphia Continental Chapter of the Sons of the American Revolution in an effort to help them raise money for their programs.  They asked if they could use our artwork to generate funds for their non-for profit organization.   We have agreed and we hope you can help and support the cause by purchasing Continental Chapter apparel and art featuring our Defiance artwork.  
From the Chapter-
"Thank you for supporting the Philadelphia Continental Chapter of the Sons of the American Revolution (SAR), an historical, educational, and patriotic non-profit lineage organization that seeks to maintain and extend:
the institutions of American freedom
an appreciation for true patriotism
a respect for our national symbols
the value of American citizenship.
All funds generated from the sale of these products support our mission to promote these goals through youth and public service programs, scholarships, veterans support programs, participation in special observances and ceremonies, and civilian recognition programs centered around the history and ideals of our patriot ancestors.
We encourage you to explore these opportunities at your local and national Sons of the American Revolution (SAR) organizations."
We offer paper and rolled canvas prints in the following sizes:
Paper print sizing:
Image size 12" x 16" (total size 13" x 17")
Image size 18" x 22" (total size 19" x 23")
Image size 24" x 31" (total size 25" x 32")
Image size 29" x 36" (total 30" x 37")
Rolled Canvas image sizing is the same as the paper sizing with industry border sizing to ensure proper and complete stretch/ mounting to support bars.
All our prints are printed on fine art archival photo paper and canvas utilizing the very best in current ink technology.  All our canvas prints are varnished.  All prints are personally hand signed by the artist, Tony Moreschi.