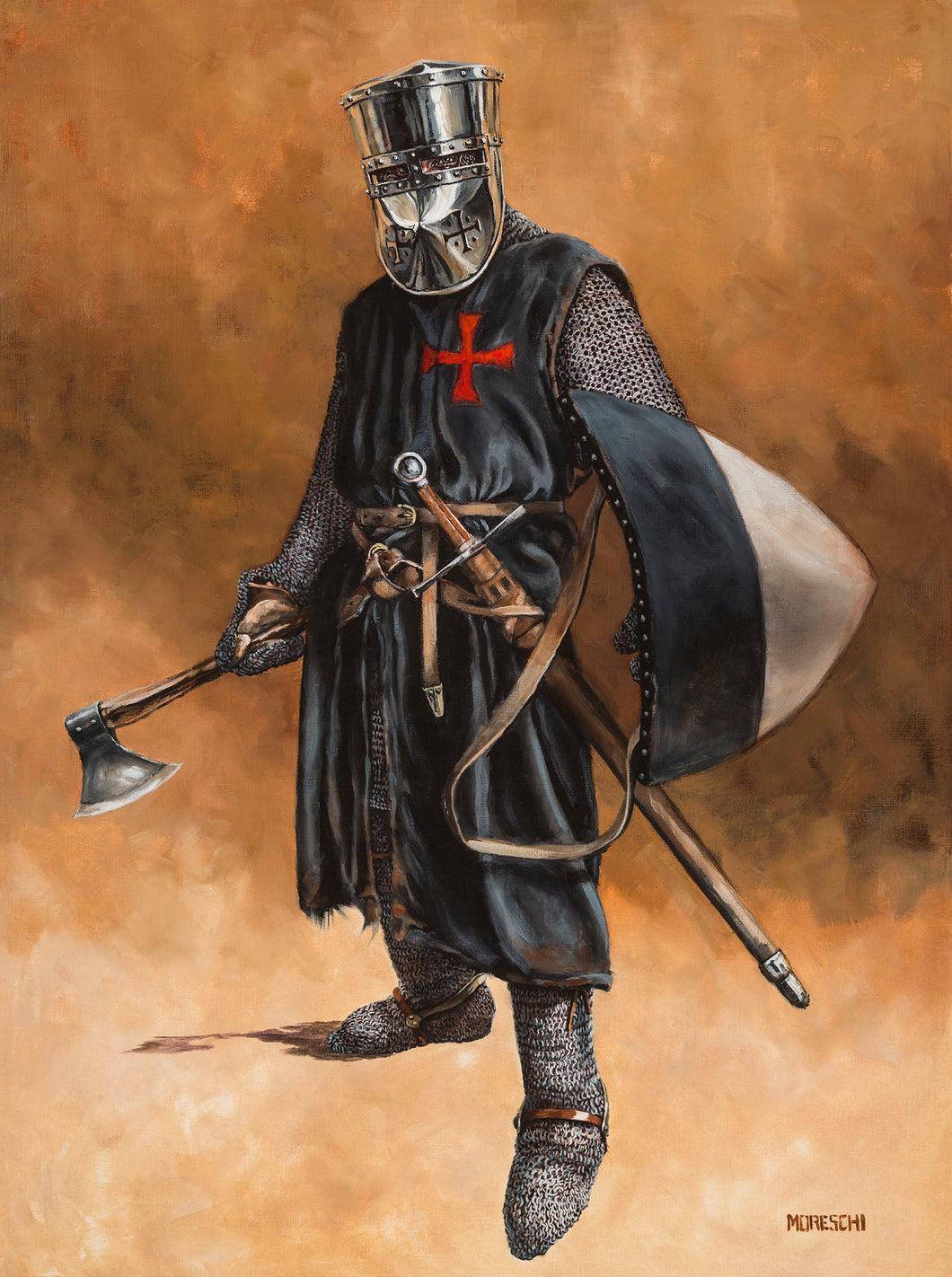 Original Oil Painting - The Templar Brother Sergeant 18" x 24"
SOLD.
"GOD WORKS WELL WITH US AND OUR SAVIOR JESUS CHRIST"

Here is a study of a sergeant brother of the  - "The Poor Fellow-Soldiers of Christ and the Temple of Jerusalem"... or most notably known as the Templar Order  This painting is oil on canvas paper mounted to panelling.  The painting measures 18" x 24."  The painting ships framed and ready to hang.
Signed and dated by Tony on the back panel.  Comes with a Certificate of Authenticity.  Artist retains all copyright and merchandising rights to this piece of art.
A bit of history on Templar Sergeants from the actual "Rule of the Templars Rulebook - The Primitive Rule" 1129 A.D.
"RULE 2. Above all things, whosoever would be a knight of Christ, choosing such holy orders, you in your profession of faith must unite pure diligence and firm perseverance, which is so worthy and so holy, and is known to be so noble, that if it is preserved untainted for ever, you will deserve to keep company with the martyrs who gave their souls for Jesus Christ."  - The Primitive Rule #2 of the Rule of the Templars, 1129
"RULE 68...that the sergeants and squires should not have white habits... Therefore let them assiduously be given black robes..."
"RULE 172... The sergeant brothers who are armed in mail should conduct themselves under arms as is given for the knight brothers; and the other sergeant brothers who are not armed, if they act well, will receive thanks from God and the brothers...  If brothers are placed to command the sergeants at arms, they should not leave in order to charge or for any other reason, without permission; but if the Marshal or brothers charge, they should lead the sergeants lined up in close ranks behind them, to the best of their ability, so that if the brothers need them, the sergeants may come to their aid."
Prints also available:
Print Specs:
Paper Giclee Print Options
- Open Edition.
- Printed on high quality acid free fine art photo paper.
- Sizes available: 18" x 24" (image size), total size with surrounding half inch white border for matting is 19" x 25".   12" x 16 (image size), total size with surrounding half inch white border for matting is 13" x 17". 
- Personally signed by Tony.
- Ships with Free decal.  
Canvas Giclee Print Options
- Open Edition set.

- Signed by Tony.
- Canvas print has a coat of varnish.
- Shipped version is sent ROLLED in a tube, customer mounts or stretches and mounts canvas to fit a standard 18" x 24" frame (can be done at any local frame shop, hobby, or craft store).
- The canvas print is printed to be stretched and mounted for an 18" x 24" set up to match the original oil painting.  
Prints come with a Free DEFIANCE DECAL.
This print is a product of our Spiritual Warfare Collection.