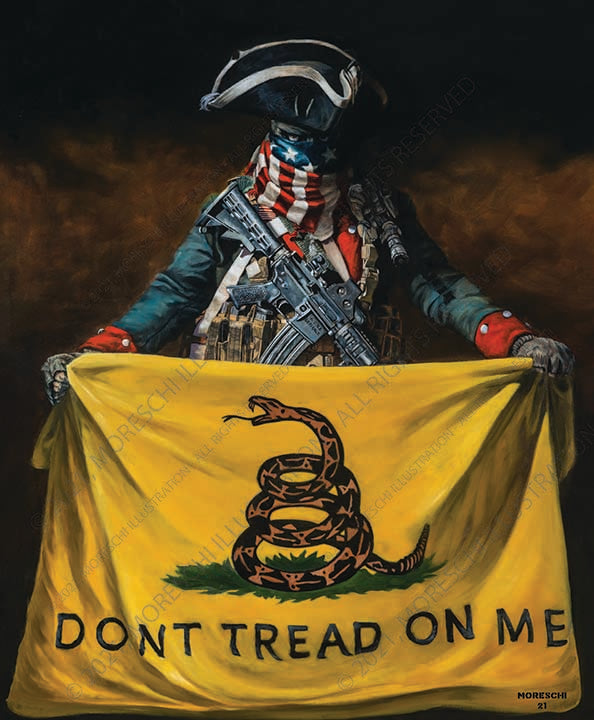 DONT TREAD ON ME Art Print
Regular price $360.00 Sale
New for 2021 - Defiance's DONT TREAD ON ME art print.
The 32" x 36" CANVAS is a LIMITED EDITION signed and numbered set of 76 prints. These limited edition canvas prints come with a Certificate of Authenticity. This means we will be only producing 76 of these canvas prints.
* CANVASES ARE SHIPPED ROLLED.  You will have additional canvas in order to stretch and mount the piece.  Your local frame shop, Hobby Lobby, or Michaels stretch and mount/ wrap canvases.  These pieces usually take one week to produce and varnish before shipping.
** We have READY TO HANG Stretched and Mounted/ Wrapped Canvas pieces at the shows.  If you would like to pick a piece up at a show, please email us 2 weeks before the show to make a special order.
All other paper prints are "OPEN EDITION" prints.  They are signed only, not numbered, as they are NOT part of a limited edition set.  
All print orders come with a free decal.
 *** Available in canvas and paper.  Our prints are "giclee" prints, fancy for ink jet print... the highest method to match colors to the original painting.  We print on acid free archival photo paper (smooth) and archival art canvas.  All canvases are "varnished" like the original.
All paper prints have a half inch white border on each side.  Thus, for example, the 32" x 36" Paper Giclee Art Print will have a total product measurement of  33" x 37."