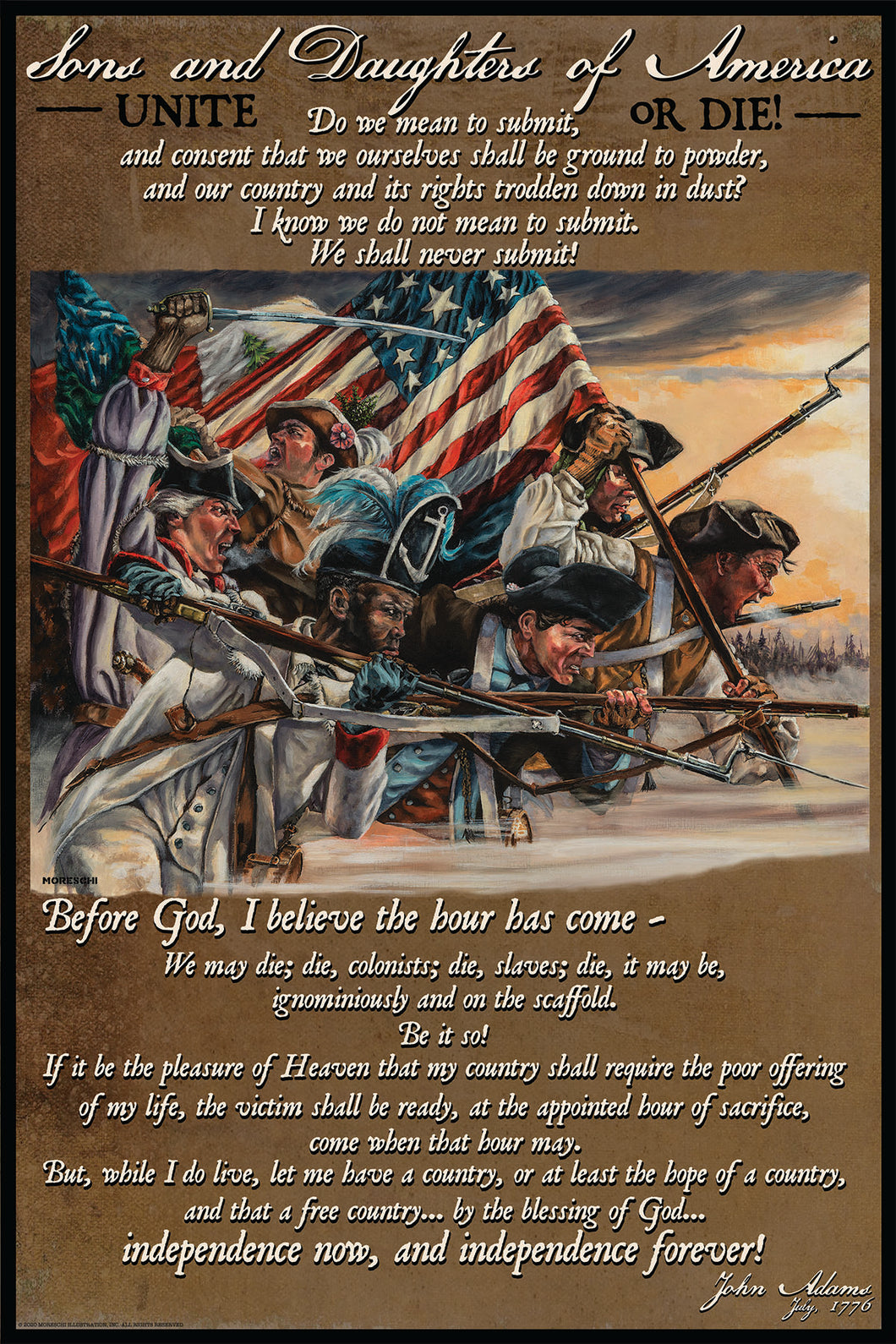 The John Adams- Never Submit! Art Print
Regular price $65.00 Sale
 The John Adams - NEVER SUBMIT! Art Print
Inspirational excerpts taken from a speech by John Adams to the Continental Congress on July 2nd, 1776 in an effort to pass the Declaration of Independence. Artist Tony Moreschi pulled the portions of the speech as retold by Senator Daniel Webster in his eulogy on Adams and Jefferson when he addressed the large crowd gathered at Faneuil Hall in Boston on August 2nd, 1826.
"I was going to initially title this oil painting "A Ruckus of Rebels" depicting various different American soldiers from numerous colonies all charging and working together in pursuit of Independence... but, then I happened to be reading Webster's eulogy and he quoted Adams on his July, 1776 plea to pass the Declaration of Independence, and it was powerful... and meaningful for us today... will we lay down and submit to the constant control being exacted upon us at all levels of government... arbitrary rules, ordinances, and laws seemingly passed without any opposition, and by our own people! I pulled out and crafted parts of the speech to compliment the rebels rushing into harms way.  This country's Revolution generation threw aside the thought of hanging from a gibbet and rushed head on, facing tyranny, never submitting!   This is my painting, UNITE or DIE!... ALL IN... TOGETHER... UNITE or DIE!  FOR LIBERTY'S CALL!" - Tony Moreschi
The art print reads as a "broadside" from 1776...
SONS AND DAUGHTERS OF AMERICA
UNITE OR DIE!
Do we mean to submit,
and consent that we ourselves shall be ground to powder,
and our country and its rights trodden down in dust?
I know we do not mean to submit.
We shall never submit!
Before God, I believe the hour has come-
We may die; die, colonists; die, slaves; die, it may be,
ignominiously and on the scaffold.
Be it so!
If it be the pleasure of Heaven that my country shall require the poor offering
of my life, the victim shall be ready, at the appointed hour of sacrifice,
come when that hour may.
But, while I do live, let me have a country, or at least the hope of a country,
and that a free country... by the blessing of God...
independence now, and independence forever!
- John Adams, July, 1776
This painting depicts different soldiers of varying regiments and different flags representing the Americans during the war.  This IS NOT A PARTICULAR BATTLE SCENE.  This painting is intended to represent the SPIRIT of the Rebels in the war for American Independence. 
The flags are as follows from left to right:
1. Standard of Stark's New Hampshire Militia Brigade - 1777 (Standard and Colors of the American Revolution by E. Richardson, 1982).
2. Battle of Bunker Hill Flag ( Historical painter of the era, John Trumball from his famous painting, "The death of Joseph Warren at the Battle of Bunker Hill," painted between 1815-1831... Note: John Trumball was a witness to the battle.)
3. The "Trumball Flag" - John Trumball was not only an artist-historian of the war, but also served as an officer. When depicting the American standard in his paintings, he painted the flag with six pointed and five pointed stars, arranged in a 12 star box surrounding one star in the canton of the standard.  
The Colonials are as follows from left to right with a brief description to help identify the soldier:
1. Rhode Island Light Infantry Company - a black soldier wearing a white linen hunting shirt cuffed in red.  This soldier dons a light infantry style cap of the war, painted with the representational Rhode Island Island "anchor" painted on the front facing of the cap.
2. 4th Independent Maryland State Troop officer behind and next to the Rhode Island soldier, wearing a dyed purplish Osnaberg linen hunting shirt with red collar and cuff.
3. Carrying the New Hampshire flag is a militia member of Stark's New Hampshire Brigade in a general brown hunting shirt, donning a "round hat" with cockade, dear fur and a sprig of evergreen.
4. In the foreground in front of our Rhode Island soldier is a member of the 14th Regiment of the Massachusetts Line wearing his dark brown regimental coat faced with light blue, ruddy colored waistcoat and peach blossomed trousers.
5.  The soldier charging with the Trumball Stars and Bars is a general looking militiaman.
6.  In the background behind the militia man is a general looking Continental Line soldier in his blue contract coat that is faced in red.
PRODUCT SPECS:
1. Prints are made to order.  If we have show stock in inventory, we pull from this inventory to fill online orders.  If we do not have show stock, we have to order your print from our local print shop, this may take 3-4 business days for paper prints and 7-10 days for varnished roll canvases - 14 days for stretched, mounted, and varnished canvas pieces.  We do not ship mounted canvas prints, only rolled canvas prints ship.  If you would like a stretched and mounted canvas, contact us, as we do deliver them to the shows we attend... so you may order one online and pick it up at a show we attend.
2. The 16" x 24" (IMAGE SIZE) (Print size with white border is 17" x 25") sized print is an "Open Edition" print set.  An "Open Edition" print set means the print will be produced as long as the Studio decides to produce it.
3. The 24" x 36" (IMAGE SIZE) (Print size with white border is 25"x 37") sized - "Open Edition" print.
4.  All prints are personally signed by Artist Tony Moreschi.  
5.  The Light blue watermark visible on the web image IS NOT present on the prints being sold, it is only for web or print advertisement purposes only.
6.  Prints are produced by using "giclee" high quality ink jet printing on heavy fine art archival paper and canvas.  Our process of printing uses fade resistant, archival inks.  Our canvas prints are also coated with a spray varnish to add an additional layer of protection and give them a more original painterly look and feel.